When it comes to camping, finding the right food to bring along can be a daunting task. However, with the advent of freeze-dried food, campers can enjoy delicious and nutritious meals on their outdoor adventures. In this comprehensive guide, we will take you through the best options for camping, their nutritional values, and what makes them stand out.
Benefits of Freeze-Dried Food for Camping
Freeze-dried food offers a range of benefits that make it the perfect option for camping. Some of the benefits include:
Lightweight: It is lightweight, making it easy to carry and transport during camping trips.
Easy to prepare: All you need to prepare is hot water, making it a quick and easy meal option for camping.
Nutritious: Freeze-dried food retains most of its nutritional value, making it a healthy meal option for campers.
Learn more about the process.
Factors to Consider When Choosing Freeze-Dried Food for Camping
When choosing freeze-dried food for your camping trip, there are several factors you need to consider. These factors include:
Nutritional Value: Look for food options that have a balanced nutrient composition and meets your dietary requirements.
Serving Size: Choose options that provides adequate serving sizes for the number of campers in your group.
Shelf Life: Check the expiration date of the freeze-dried food and choose options with a longer shelf life to avoid spoilage.
Taste: Freeze-dried food can sometimes be bland, so choose options that have a good flavor profile and seasoning.
Top Freeze-Dried Food Options for Camping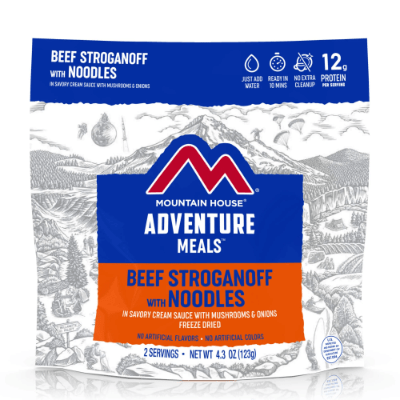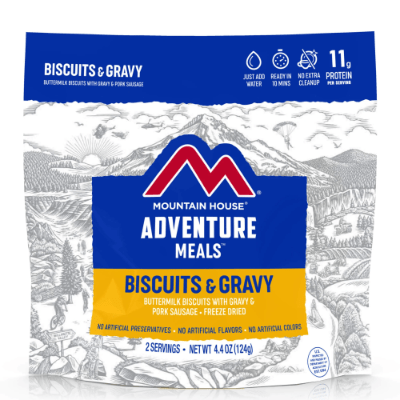 Mountain House Biscuits & Gravy: This meal makes a fantastic hot breakfast. Buttermilk biscuits with a creamy pork sausage gravy is a family-favorite around the campfire.
Mountain House Fettuccine Alfredo with Chicken: This is a new one I've added to my kit. The right amount of carbs and protein for either winding down after a long day on the trail, or boosting you energy before getting started. I really like the whole butter/parmesan flavor to this dish. And like all Mountain House meals, the packaging is recyclable and they have a 30 year shelf life.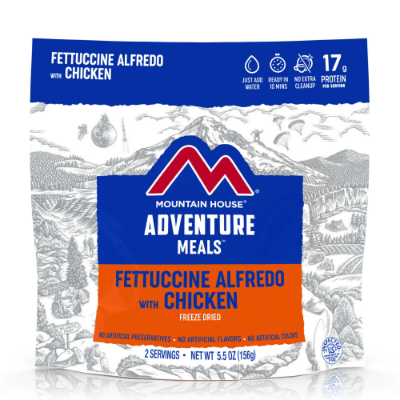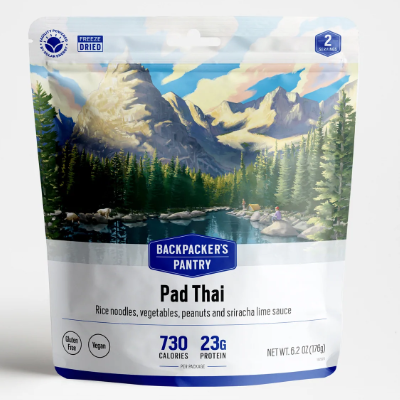 Backpacker's Pantry Pad Thai: This meal is perfect for vegetarians and provides a healthy and delicious meal option Delicious and authentic Thai rice noodles with vegetables in a spicy peanut sauce. It has a shelf life of 7 years. This is packed with 23g of protein and is Non-GMO, vegan and gluten-free. Backpacker's Pantry also participates in 1% For the Planet.
AlpineAire Foods Black Bart Chili with Beef and Beans: This is another new product I've added to my kit. AlpineAire's Black Bart chili is a delicious freeze-dried chili made with beef, pinto and black beans. If you pack tortillas in your kit, these make for a nice companion to the chili.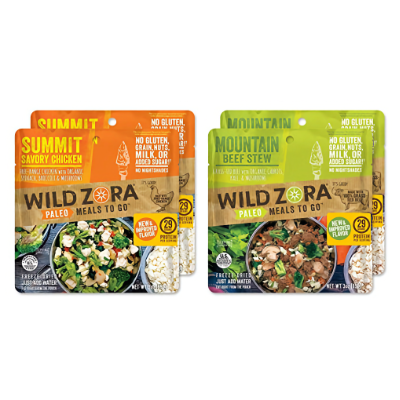 Wild Zora Paleo Meals to Go: A friend of mine swears by these. I just ordered a 4-pack but haven't tried them beyond stealing a bite from his on a hike. My 4-pack includes two Summit Savory Chicken and two Mountain Beef Stew. The chicken has cauliflower in it and I'm not a big fan of cauliflower, but I'll give it a go and report back to you in the future.
Bulk Options
When it comes to buying freeze-dried food, purchasing in bulk can be a great way to save money. Not only is buying in bulk more cost-effective, but it also allows you to have a supply of meals on hand for future trips, without having to constantly reorder.
Additionally, when buying in bulk, you can customize your selection and choose only the meals you prefer, ensuring that you're getting exactly what you need for your next outdoor adventure. So why not consider buying in bulk and take advantage of the cost savings and convenience it provides?
I highly recommend you try singles until you find what you like, but a couple of bulk options on my radar:
Mountain House Classic Bucket: An easy to store bucket of 12 meals consisting of beef stew, beef stroganoff, granola with milk and berries, classic spaghetti with meat sauce, and chicken fried rice. Usually priced around $120.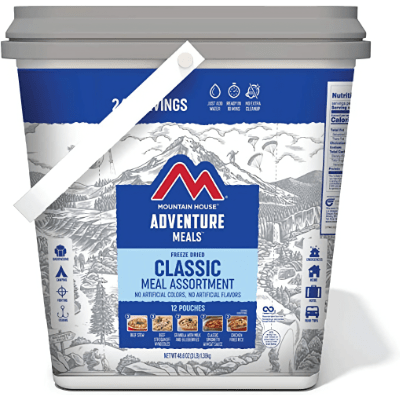 Wise Company Emergency Food Supply: Looking for a survival option to stock your bunker? Wise Company provides a range of freeze-dried food options in one kit. It has a shelf life of 25 years and is perfect for emergency situations. This supplies 12 buckets with 1440 servings and a shelf life of 25 years. Sure this is overkill for my audience, but I had to get a laugh.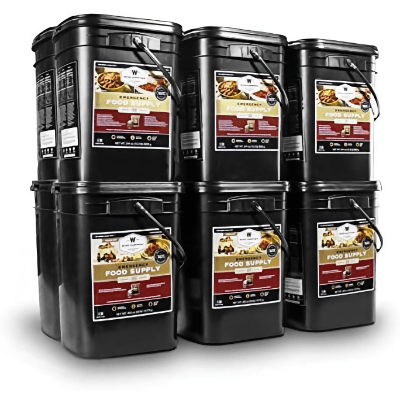 You can get their 60 serving buckets for around $125 with a variety of 13 different meals to satisfy your palate!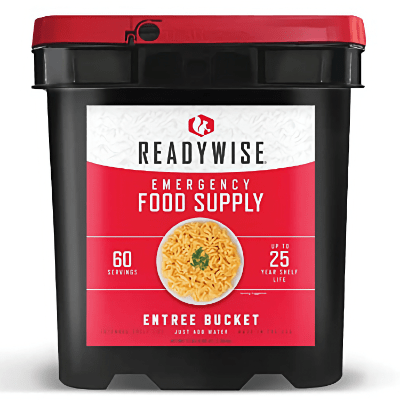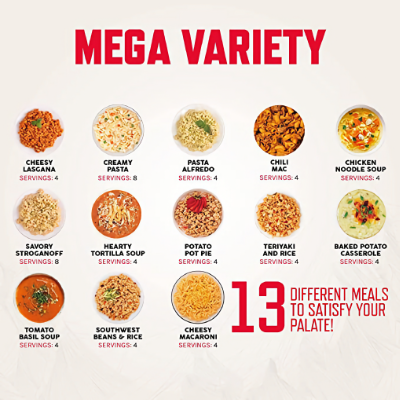 Final Thoughts
Freeze-dried food is an excellent meal option for camping. It is lightweight, easy to prepare, and provides a range of nutritional benefits. When choosing these quick packaged options for your camping trip, it is important to consider factors such as nutritional value, serving size, shelf life, and taste. The top brands for camping include Mountain House, Backpacker's Pantry, AlpineAire Foods,, and Wise Company Emergency Food Supply. By using this guide, you can ensure that you have delicious and nutritious meals on your camping trip.
This post contains affiliate links.