Getting rid of that Campfire Smell
There's something magical about campfires, but their lingering smell on clothes can be less than enchanting. In this comprehensive guide, we'll share simple and effective methods to remove campfire odors from your clothing, so you can enjoy the memories without the lingering scent. Let's dive in!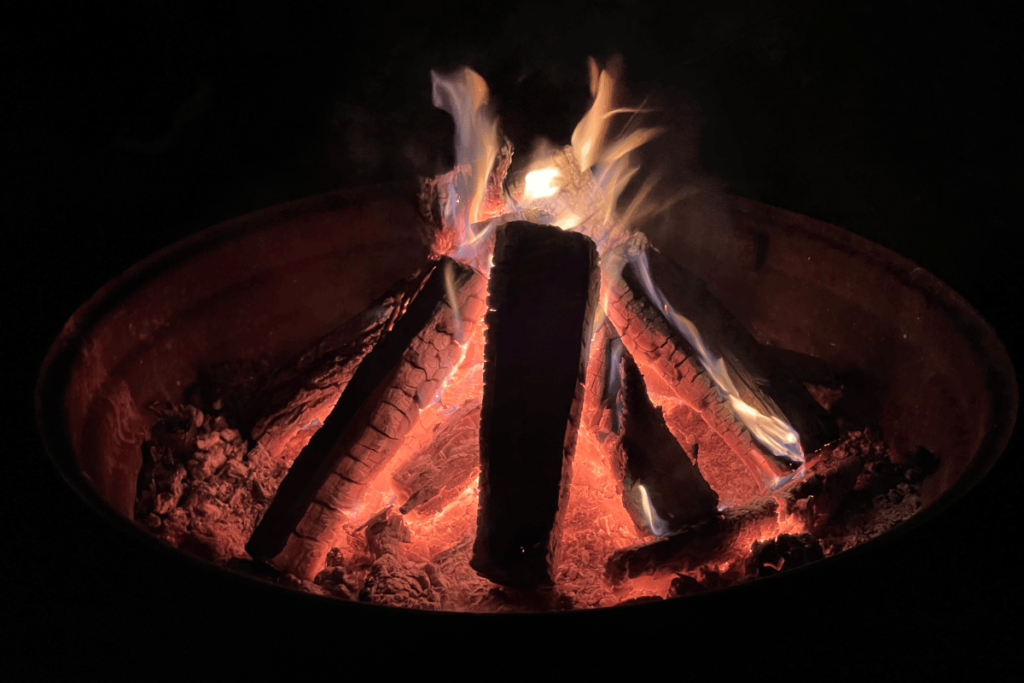 What Does a Campfire Smell Like?
A campfire's distinctive smell is a mix of various elements that create a unique, often nostalgic aroma. The scent of a campfire depends on the type of wood being burned, the presence of other materials in the fire, and the atmospheric conditions.
The primary source of the campfire smell is the burning wood. When wood is burned, it releases a combination of gases and particles that contribute to the aroma. Some of the primary compounds released during wood combustion include:
Lignin: This complex organic polymer imparts a smoky, slightly sweet scent when burned.
Cellulose: The burning of cellulose, a primary component of plant cell walls, produces a faintly sweet and woody odor.
Resins: Some types of wood, such as pine, contain resins that release a strong, pungent scent when burned.
Additionally, the presence of leaves, twigs, and other organic materials in the fire can add to the complexity of the aroma. The moisture content of the wood can also affect the smell, as damp wood tends to produce a more pungent, smoldering odor.
Atmospheric conditions, such as humidity and temperature, can also influence the campfire smell. Cooler temperatures and higher humidity levels can make the scent more potent and longer-lasting.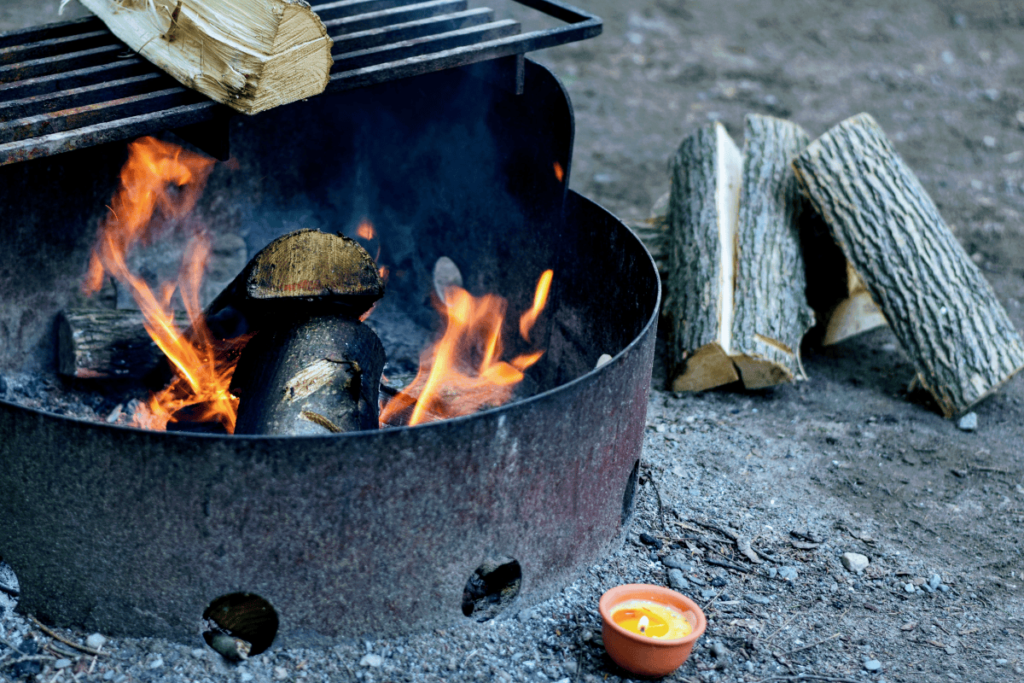 Why Does Campfire Smoke Linger on Clothes?
Campfire smoke contains particles and volatile organic compounds (VOCs) that can easily permeate and cling to fabric fibers. These compounds are responsible for the lingering smell on your clothes. Understanding the nature of these compounds will help you choose the best methods to remove them.
6 Tips for Removing Campfire Smell from Clothes
Tip 1: The Power of Baking Soda
Baking soda is a well-known natural deodorizer that effectively neutralizes odors. To use this method:
Fill a basin or sink with warm water.
Add 1 cup of baking soda.
Submerge your smoky clothes in the solution.
Soak for at least an hour, or overnight for best results.
Wash your clothes as usual.
Tip 2: Using Vinegar to Banish Campfire Odors
White vinegar is a versatile household item that also neutralizes odors. Here's how to use it:
In a washing machine, add your smoky clothes.
Pour 1 cup of white vinegar into the detergent compartment.
Run a regular wash cycle.
Optionally, add ½ cup of baking soda during the rinse cycle for extra odor-fighting power.
Tip 3: Lemon Juice – A Natural and Fresh Alternative
Lemon juice is an excellent option for a fresh, natural scent. To use lemon juice:
Mix equal parts lemon juice and water in a spray bottle.
Lightly mist your smoky clothes with the solution.
Hang your clothes outside to air dry.
Tip 4: Air it Out: Fresh Air and Sunlight
Fresh air and sunlight can work wonders for removing odors. To air out your clothes:
Hang your smoky clothes outside on a clothesline or drying rack.
Allow them to air dry for several hours, preferably in direct sunlight.
The combination of fresh air and ultraviolet rays will help break down and dissipate the campfire odor.
Tip 5: Dryer Sheets – A Quick Fix for Mild Odors
For milder campfire smells, dryer sheets can offer a quick solution:
Place your smoky clothes in the dryer.
Add 1-2 dryer sheets for a pleasant fragrance.
Run the dryer on a low-heat setting for 10-15 minutes.
Check the clothes and repeat if necessary.
Tip 6: Activated Charcoal – An Odor Absorbing Powerhouse
Activated charcoal is an odor-absorbing powerhouse that can be used to tackle stubborn smells:
Place your smoky clothes in a large, sealable plastic bag or airtight container.
Add several activated charcoal briquettes or a sachet of activated charcoal powder.
Seal the bag or container and leave it for 24-48 hours.
Remove the clothes and wash them as usual.
Prevention Tips for Future Campfires
While removing campfire smells is possible, prevention is always better. Here are some tips:
Opt for clothing made from synthetic materials, as they tend to absorb less smoke.
Choose a well-ventilated campfire location to minimize smoke exposure.
Change into designated campfire clothes to minimize the impact on your main wardrobe.
Final Thoughts
Removing campfire odors from your clothes doesn't have to be a challenge. With these simple and effective methods, you can enjoy the great outdoors without the lingering scent. Whether you choose baking soda, vinegar, lemon juice, fresh air, dryer sheets, or activated charcoal, these solutions will help you get back to smelling fresh in no time. And by taking preventive measures, you can reduce the impact of campfire smoke on your clothes during future adventures.
Frequently Asked Questions – FAQs
Can I use a combination of methods to remove campfire smell from clothes?
Yes, combining methods can be more effective in removing stubborn campfire odors. For example, soaking your clothes in a baking soda solution and then washing with vinegar can enhance the odor-removal process.
How long does it take for campfire smell to naturally dissipate from clothes?
The time it takes for campfire smell to naturally dissipate varies depending on factors such as fabric type, smoke exposure, and storage conditions. Hanging your clothes outside to air out for several hours or even days can help speed up the process.
Do I need to wash my clothes after using a dryer sheet to remove campfire smell?
No, dryer sheets are designed to provide a quick fix for mild odors. However, if the smell persists, you may want to try one of the other methods mentioned in the article, followed by a regular wash cycle.
Can I use essential oils to remove campfire smell from clothes?
Essential oils can help mask the smell of campfire smoke, but they don't necessarily remove the odor. To use essential oils, add a few drops to a spray bottle filled with water and lightly mist your clothes before hanging them outside to air dry.
Is it safe to use commercial odor-removing products on my clothes?
Many commercial odor-removing products are safe for use on clothes. However, it's essential to read the product label and follow the manufacturer's instructions to avoid damaging your clothing. Always test a small, inconspicuous area first to ensure the product doesn't cause discoloration or other damage.