There are few things you may want to keep in mind before you set foot into the great outdoors. Taking a trip into the wild, even if you are just camping, is obviously not like your typical beach or city vacation, so you will definitely need to rethink your packing regimen.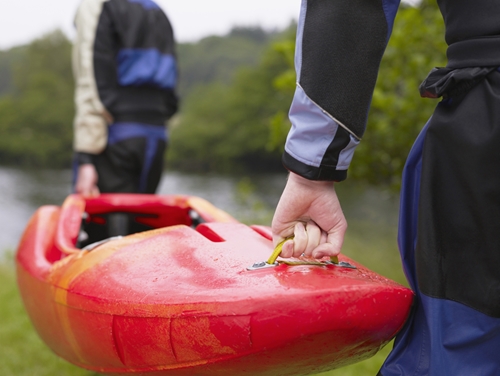 Comfort and durability is key Whether you are hiking up Mount Everest or kayaking through the Amazon, you need to make sure that you have the gear to withstand the elements comfortably. This obviously means you can leave the cufflinks and high heels back home in your closet. More often than not, a trusty pair of hiking boots is the first thing that goes into their bag.
You may also enter a wide variety of weather conditions, from bitterly cold temperatures to days of intense sunshine. Rain jackets, liner socks, all-weather gear and comfortable undergarments as well as scarves, gloves and hats will all need to come with you along with a quick-dry towel and blanket. If you are headed to a cooler climate, such as the Rockies, insulating jackets, vests and pants can really save you from a night of shivering in the crisp air. If you are planning for an adventure trek overseas, you will need paperwork like an entry visa, passport (and a copy), a key list of phone numbers and an international health card that validates your immunizations, if necessary.
Here are some other handy items that might be useful for a night out in the wilderness:
Multi-Tool
My pick for the best multi-tool is the Leatherman Skeletool CX at $80. It is a great utility knife in general, but where this tool shines is with the pliers. Various versions of Letherman tools have been in my kit over the years, but Skeletool CX has a permanent spot. I also keep one in my truck.
Reusable Water Bottles and Water Purification Tablets
For reusable water bottles, I have a couple in rotation, the first being a Hydro Flask 32oz wide mouth bottle with a straw lid. Primary use for the Hydro Flask is on short hikes or multi day hike through trips. If we are camping in relatively easy-to-get-to spot, I also have a Yeti Rambler One Gallon Jug at the ready. I'll freeze a tupperware bowl of water to drop in as an ice block and it gives the family ice cold water for up to 48 hours or it runs dry.
For on the go water purification tabs, we use Potable Aqua, MSR Aquatabs or Katadyn Micropur.
GPS
Hands down, the best handheld GPS is the Garmin GPSMAP 66st. But it is a bit pricey for the novice adventurers at around $350. For a lighter option, the Garmin eTrex 20x will suit your needs and wallet at around $150.
Flashlight
Picking the best flashlight is like starting a conversation on the best religion or political party. I'll keep this one simple, I carry a ThruNite Archer 2A V3 in my every day carry. It'll suit most folks well enough. More seasoned adventure travelers know what to look for.
In addition to that flashlight, I also carry a couple year old Black Diamond Spot Headlamp in my backpack.
I've also been intrigued by peripheral LED Headlamps. I recently ordered a One80 Headlight and am looking forward to testing it out.
Dry Bag
A couple of dry bags packed away are a must. I prefer the waterproof versions that fold over and buckle. Perfect for either protecting electronics/clothes from unexpected moister, or separating wet gear away from your dry gear. My primary dry bag is the Sea to Summit Big River Dry Bag at around $45.
Battery Charger
If I'm going to be away from power for a while, I have a couple options. The first is an older Anker PowerCore 20100 which will charge my iPhone over 6 times from a full charge. If we are hanging out at a campsite with plenty of sun, I also keep a Goal Zero Guide 10 solar panel in the truck for topping off batteries.
Binoculars
My wife loves to bird watch while we out hiking, so she says a pair of binoculars are must. Her choice is the Carson VP Binoculars at about $140.