Grilled meatballs, quick and easy wether you are at home or camping.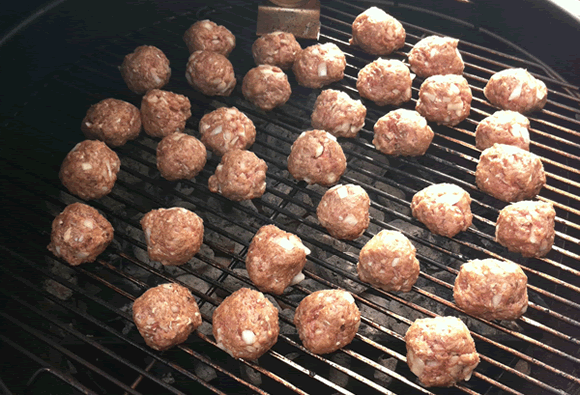 Fire up the grill, mine was in the neighborhood of 425 at the grate today. Grill covered for 5-7 minutes. Flip, grill another 5-7 minutes. Partially indirect, but I like a few crisp ones in there for simmering in sauce at a later date.
Grilled Meatballs Recipe
1 Pound 85% Ground Chuck
1 Pound Ground Italian Sausage  (or use links and discard casings)
1/2 Cup grated Parmesan or Romano (I use fresh grated, use 1/3 cup if using Kraft grated parm or similar)
2 Eggs
3 Cloves Garlic
1 Tablespoon Italian Seasoning
1/4 Cup Masa Flour (or bread crumbs or regular flour)
1 Small yellow onion diced
Salt to taste
Pepper to taste
Red pepper flakes to taste
Hot sauce to taste
Mix by hand, or cheat like me and use one of them fancy upright stand mixers, and mix for a few minutes until everything is well blended. I had roll to about the size of a golf ball and set aside on a cookie sheet covered with parchment or wax paper.
When the grill is hot, grill for 5-7 minutes covered over slightly indirect heat. Flip and mix 'em around for even cooking and grill another 5-7 minutes.
Makes about 30 at golf ball size. Quick and easy; from start-to-finish, including cleanup, roughly 30 minutes depending on how fast you can roll out the meatballs.
Eat right away. If have the will power to keep your mitts off of 'em, they'll store in the fridge for 3-4 days. Or freeze for a handy any-time snack (I make double-batches for this reason). That picture above was taken with today's batch.