My Georgia Mustard Recipe
When it comes to pork (grilled or BBQ), there is barbecue sauce and then there is Georgia Mustard – commonly used in the Appalachians and southeastern states, but not as popular throughout the rest of the country. It goes very well with just about any kind of sausage, as well as pulled-pork sandwiches, ribs and as a glaze for ham. You might also be interested in my Spicy Southwest BBQ Rub recipe.
This versatile, tangy, and mouth-watering sauce is the ideal companion to elevate your next cookout or BBQ. Follow my step-by-step guide to create a flavor explosion that'll leave your guests begging for more.
Ingredients for Georgia Mustard
1 cup yellow mustard
1/4 cup apple cider vinegar
1/4 cup honey
1/4 cup brown sugar
2 tablespoons ketchup
1 tablespoon Worcestershire sauce
1 tablespoon hot sauce (I use Gringo Bandito Hot Sauce)
1 teaspoon garlic powder
1 teaspoon onion powder
1/2 teaspoon ground black pepper
1/2 teaspoon salt
Step-By-Step Instructions
1. Combine the Base Ingredients
In a medium-sized saucepan, whisk together the yellow mustard and apple cider vinegar. This creates the tangy base for my Georgia Mustard BBQ sauce.
2. Add Sweetness and Spice
Add the honey, brown sugar, and ketchup to the saucepan, stirring until fully combined. This will provide a perfect balance of sweetness to counter the tanginess of the mustard and vinegar.
3. Enhance the Flavor Profile
Now, mix in the Worcestershire sauce, hot sauce (if using), garlic powder, onion powder, ground black pepper, and salt. This will elevate the flavor complexity of your Georgia Mustard BBQ sauce.
4. Simmer and Thicken
Heat the saucepan over medium heat, stirring frequently to avoid burning. Allow the sauce to simmer for 10-15 minutes, or until it reaches your desired thickness. This process will help meld the flavors together and create a smoother, more cohesive sauce.
5. Cool and Serve
Remove the saucepan from the heat and let it cool for a few minutes. Once cooled, transfer your Georgia Mustard BBQ sauce to a serving bowl or airtight container. The sauce can be served immediately or stored in the refrigerator for up to two weeks.
Pairing Suggestions
My Georgia Mustard BBQ sauce is incredibly versatile and pairs well with various dishes. Here are some suggestions to make the most of this flavor-packed sauce:
Grilled or smoked pork
Chicken wings or drumsticks
Pulled pork sandwiches
Beef brisket
Burgers and hot dogs
Grilled vegetables
Customizing Your Georgia Mustard BBQ Sauce
Feel free to experiment with different ingredients to make the sauce your own. You can adjust the sweetness by using maple syrup or molasses instead of honey, add more heat with cayenne pepper, or introduce a smoky flavor with smoked paprika.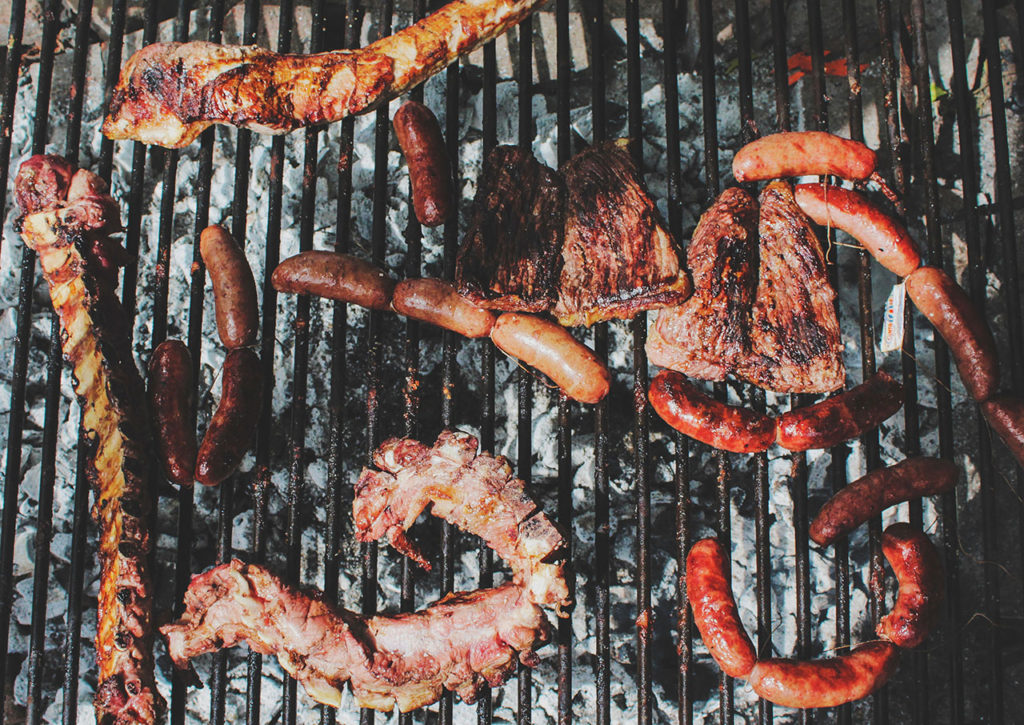 Like I said, it goes well with a lot of BBQ, especially pork. I usually use it as a finishing baste and dipping sauce for hot links and as a wet rub & finishing sauce for pork butts.