A Guide to Hammock Camping
Hammock camping has grown in popularity over the years, as more people discover the joy and freedom of sleeping suspended in the air. If you're curious about how to hammock camp, you've come to the right place. In this blog post, I'll take you through the ins and outs of hammock camping, from the benefits to the equipment needed and the tips to make your experience as enjoyable as possible.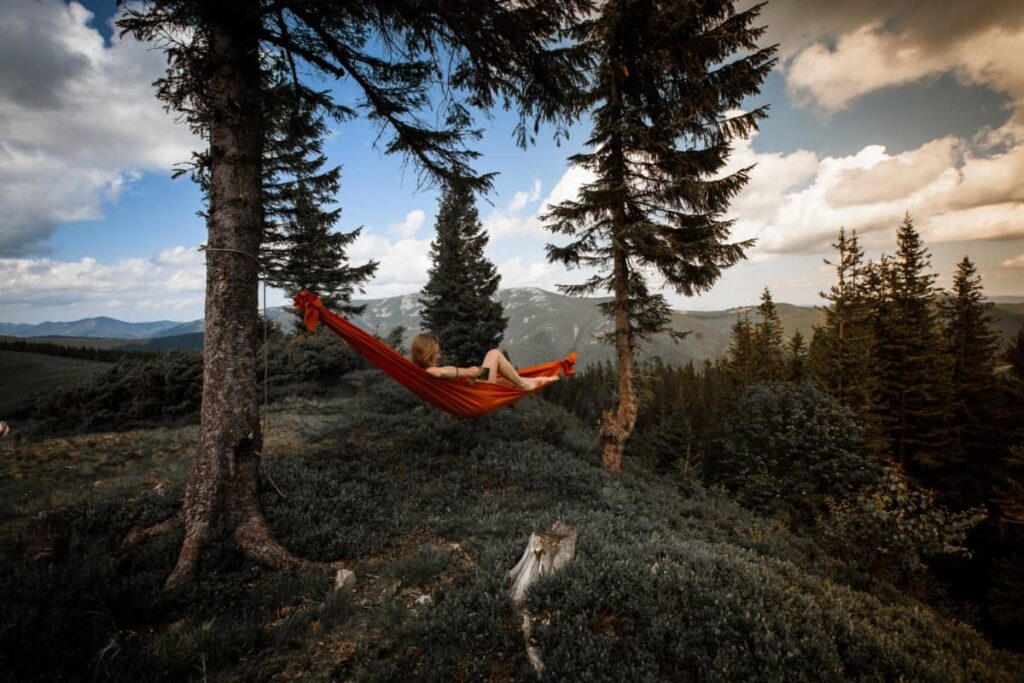 Why Hammock Camp?
Benefits of Hammock Camping
There are numerous advantages to hammock camping, including increased comfort, versatility, and a smaller environmental impact. Hammocks are particularly great for those who experience discomfort when sleeping on the ground, as they provide a more comfortable and customizable sleep experience. They also offer more flexibility when it comes to choosing your campsite, as all you need are two well-spaced trees.
Comparing Hammock Camping to Tent Camping
When compared to traditional tent camping, hammock camping has some distinct advantages. Hammocks are often lighter and more compact than tents, making them a popular choice for backpackers and minimalist or wild campers. Additionally, hammocks tend to be quicker and easier to set up, allowing you to spend more time enjoying nature.
Choosing the Right Hammock
Types of Hammocks
There are several types of hammocks to choose from, including gathered-end, bridge, and spreader-bar hammocks. Gathered-end hammocks are the most common and versatile, making them an excellent choice for beginners. Bridge hammocks have a flatter sleeping surface, which some campers find more comfortable. Finally, spreader-bar hammocks have a wider, flatter surface, but can be less stable.
Hammock Accessories and Features
When selecting a hammock, consider additional features such as built-in bug nets, integrated ridgelines, and pockets for storage. It's also essential to consider the weight capacity and materials used, as these factors can impact comfort and durability.
Setting Up Your Hammock
Selecting the Perfect Location
Choosing the right location for your hammock is crucial. Look for two sturdy trees spaced about 12 to 15 feet apart. Avoid dead or diseased trees, as they can pose a safety risk. Make sure there are no hazards, such as sharp rocks or debris, beneath your chosen spot.
Hanging Your Hammock
The 30-Degree Rule
To ensure a comfortable and safe hammock hang, aim for a 30-degree angle between the tree and your suspension straps. This angle helps distribute your weight evenly and reduces stress on the hammock and trees.
Tree Straps and Carabiners
Using tree straps and carabiners makes hanging your hammock quick and easy while protecting the trees from damage. Wrap the tree straps around the trees, then attach your hammock to the straps using carabiners. Adjust the height and tension to achieve the desired 30-degree angle.
I highly recommend MalloMe XL Hammock Straps. Each strap is 12 feet long and 1 inch wide (to prevent tree damage). These straps are made with no-stretch, heavy duty triple stitched seams. They also come with 2 lock carabiners and a handy storage bag to keep your camp kit clean and organized. $18 at the time of publication.
Staying Comfortable
Insulation and Warmth
Sleeping Pads and Underquilts
Hammock camping in colder weather requires insulation to stay warm. Sleeping pads can be placed directly in the hammock, while underquilts are designed to hang beneath it. Both options provide a barrier against the cold air, ensuring a comfortable night's sleep.
Bug Protection
Bug Nets
A bug net is essential for keeping insects at bay while hammock camping. Some hammocks come with built-in bug nets, or you can purchase a separate net that encloses the entire hammock.
Weather Protection
Rain Fly and Tarp Setup
A rain fly or tarp is necessary for protecting your hammock from rain and wind. Set up the tarp above your hammock, ensuring it is large enough to cover the entire hammock and angled to prevent water from pooling. Use guylines and stakes to secure the tarp.
Hammock Camping Etiquette
When hammock camping, it's essential to follow Leave No Trace principles. This includes selecting appropriate trees, using tree-friendly straps, and packing out all trash. Be respectful of nature and other campers by keeping noise levels down and leaving your campsite in better condition than you found it.
Safety Considerations
Always inspect your hammock and suspension system for signs of wear or damage before each trip. Ensure the trees you choose are strong enough to support your weight, and avoid hanging your hammock too high off the ground. Keep a first-aid kit handy and be aware of your surroundings.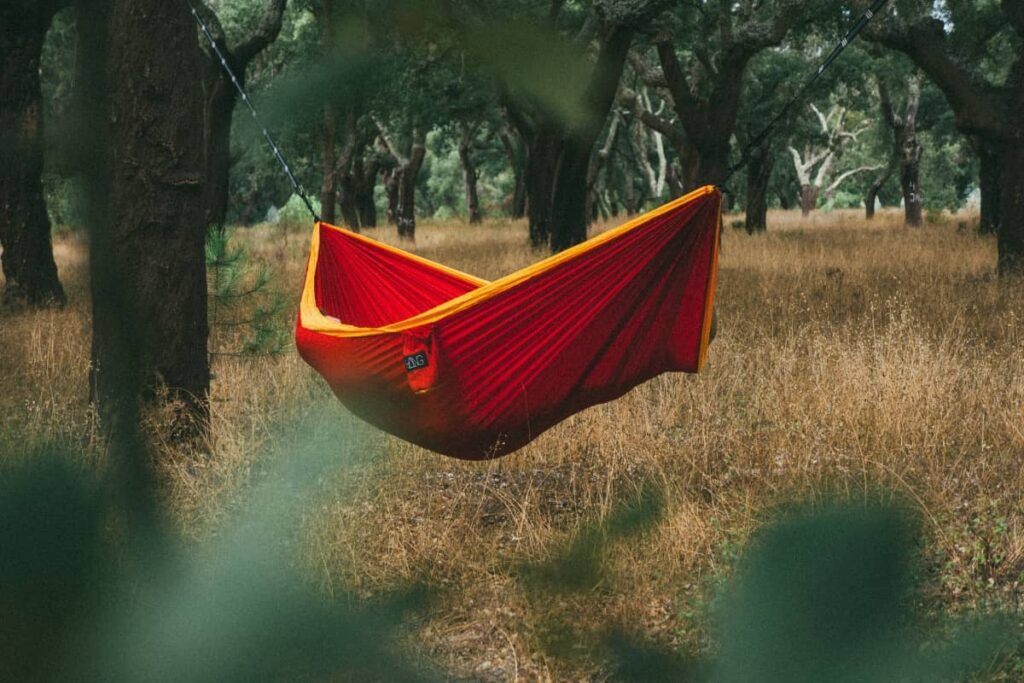 Tips and Tricks
Use a ridgeline to maintain the perfect hang angle and provide a place to attach gear, such as a headlamp or storage pouch.
Keep your gear organized and off the ground with a gear sling suspended beneath your hammock.
To avoid cold spots, consider using a double-layered hammock with a pocket for your sleeping pad.
Try a "pillow pocket" or small camping pillow to keep your head comfortable and in place during the night.
Practice setting up and taking down your hammock system at home before heading out on your first trip.
Frequently Asked Questions
Can hammock camping be harmful to trees?
Hammock camping can be harmful to trees if you do not take proper precautions. Always use tree straps to hang your hammock, and make sure the straps are at least one inch wide to distribute weight evenly. Avoid hanging your hammock on dead or damaged trees, and never use screws or nails to attach your hammock to a tree.
Can I hammock camp anywhere?
While hammock camping offers flexibility in choosing a campsite, it's essential to ensure that hammocking is allowed and that you follow any specific regulations in the area where you plan to camp.
How do I stay warm in a hammock during colder weather?
Use a sleeping pad or underquilt for insulation, and wear appropriate layers of clothing to retain body heat.
Is hammock camping comfortable?
Yes, hammock camping can be very comfortable if you choose the right hammock and set it up properly. A good hammock will provide you with a comfortable and supportive sleeping surface, and the gentle swaying motion can be very soothing.
How do you hang a hammock without trees?
If you are camping in an area without trees, you can still hang your hammock using hammock stands, poles, or even your vehicle. Hammock stands are easy to set up and provide a stable base for your hammock. Alternatively, you can use hiking poles or other supports to create a makeshift hammock stand.
Final Thoughts on Hammock Camping
Hammock camping is a unique and enjoyable way to experience the outdoors. With the right equipment, knowledge, and practice, you'll be well on your way to a comfortable and memorable adventure. Even if you don't commit to a full hammock camping adventure, I recommend you consider adding it to your car camping kit. Even if you are car camping, a hammock can be a great choice for those lazy afternoons after a big hike.