Planning for your first car camping adventure
Are you planning for your first car camping adventure? Car camping is an excellent way to enjoy the outdoors and experience nature without sacrificing the comforts of home. However, to have a successful and enjoyable trip, you must pack the essentials. In this article, we will discuss what to pack for your first car camping adventure.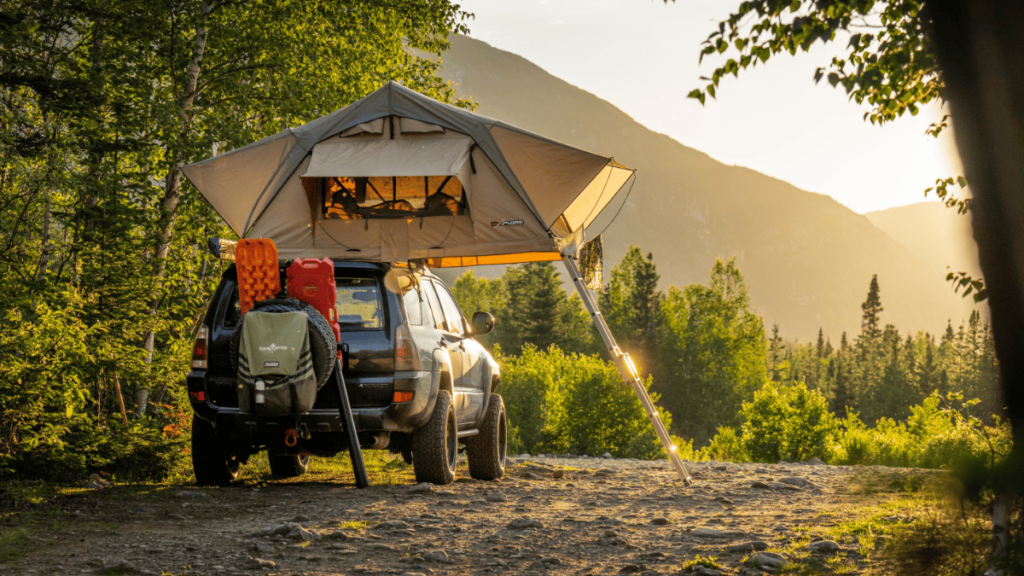 Tent and Sleeping Essentials
Tent
If you aren't planning on sleeping in your vehicle, the first thing you need to pack for your car camping trip is a tent. Make sure you select a tent that is suitable for the number of people camping. A two-person tent is adequate for two people, but if you are camping with more people, choose a larger tent. Additionally, select a tent that is easy to set up and take down, and also weather-resistant. See our previous article on tips for camping in the rain.
Sleeping Bag
Sleeping bags are essential for camping, and they come in different shapes, sizes, and temperature ratings. Consider the temperature and climate of the location you are camping in when selecting a sleeping bag. Choose a sleeping bag that is warm enough for the climate, but not too warm that you will overheat.
Sleeping Pad
Sleeping pads provide insulation from the ground and make sleeping more comfortable. They come in various sizes and materials, including foam, air, and self-inflating pads. Choose a sleeping pad that suits your comfort level and sleeping preferences.
Pillow
Packing a pillow is optional, but it can significantly improve your comfort while sleeping. You can pack a regular pillow from home or a camping pillow designed for outdoor use.
Clothing and Personal Items
Clothing
When packing clothing for your camping trip, consider the weather and climate of your destination. Pack clothes that are comfortable, breathable, and versatile. Opt for layers of clothing, including long-sleeved shirts, pants, and a lightweight jacket. Also, pack a rain jacket or poncho in case of wet weather. If you are going to be doing a lot of hiking, invest in some great socks.
Footwear
Choose footwear that is comfortable, durable, and suitable for the terrain of your camping site. For example, hiking boots or sturdy sneakers are excellent for hiking, while sandals or water shoes are suitable for water activities.
Personal Items
Personal items to pack include toiletries, a towel, and medication. Also, pack any other personal items you need, such as a book or journal.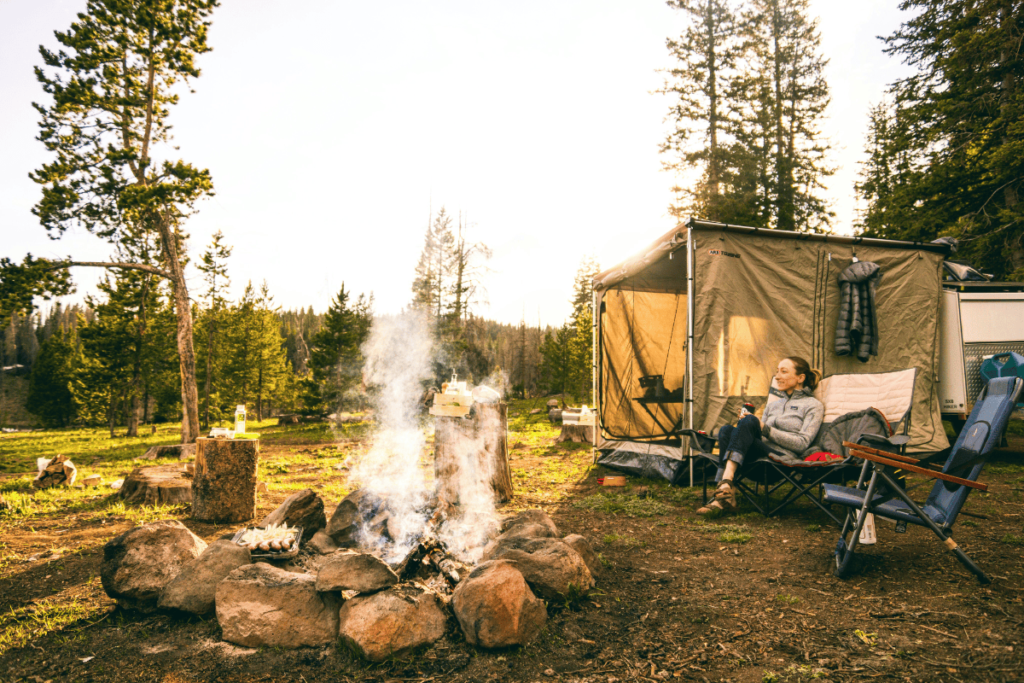 Kitchen and Cooking Gear
Cooler
A cooler is necessary to keep your food and drinks cold during your camping trip. Choose a size that can fit enough food and drinks for the duration of your trip. You don't need to go all out for a Yeti Cooler, but look for something that will keep things cold for the duration of your trip, or plan regular refills with ice.
Camp Stove
A camp stove is necessary for cooking meals while camping. Choose a stove that is easy to use, durable, and has enough burners for your cooking needs.
Cookware and Utensils
Pack cookware and utensils such as pots, pans, plates, bowls, cups, and utensils. Choose lightweight and durable options that are easy to clean.
Food and Water
Pack enough food and water for the duration of your camping trip. Bring non-perishable foods, such as canned goods, dried fruits, and nuts. Also, bring a water filter or purification tablets in case of limited water sources.
Lighting and Navigation
Headlamp or Flashlight
A headlamp or flashlight is necessary for navigating around your camping site at night. Choose one with a long battery life and adjustable brightness settings.
Lantern
A lantern is useful for illuminating a larger area, such as your campsite. Choose a lantern with adjustable brightness and a long battery life.
Maps and Compass
Bring a map and compass for navigation in case of limited phone signal. Learn how to use a compass and read a map before your camping trip.
Campsite Essentials
Camp Chairs
Camp chairs provide a comfortable place to sit around the campfire. Choose lightweight and portable options that are easy to pack.
Table
A table is useful for preparing meals, playing games, and other activities. Choose a portable and durable option that fits your needs.
Campfire Supplies
Pack campfire supplies such as matches, firestarters, and firewood. Check local fire restrictions before starting a fire.
Trash Management
Pack trash bags and bring a separate container or bag for storing your trash. Dispose of your trash properly and follow Leave No Trace principles by packing out all trash and litter. Don't leave any trash at your campsite or in the surrounding area.
Axe or Hatchet
An axe or hatchet is an essential tool for any camper, as it can help make many outdoor tasks easier and more efficient. Whether you need to chop firewood, clear brush, or prepare kindling, an axe is an ideal tool for the job. Unlike a saw, which requires more effort and time to use, an axe can quickly and easily cut through wood, saving you time and effort.
Miscellaneous Items
First Aid Kit
A first aid kit is necessary for emergencies and minor injuries. Pack essentials such as bandages, antiseptic, pain relievers, and insect bite treatment.
Insect Repellent
Insect repellent is essential for preventing mosquito and bug bites. Choose a repellent with DEET or natural alternatives such as citronella or lemon eucalyptus oil.
Sunscreen
Pack sunscreen with a high SPF to protect your skin from the sun's harmful rays.
Entertainment
Bring entertainment such as books, games, or a musical instrument to enjoy during downtime.
Hammock
Hammock camping has become increasingly popular among outdoor enthusiasts. It is a great way to enjoy nature while also getting a good night's sleep. Learn more about Hammock Camping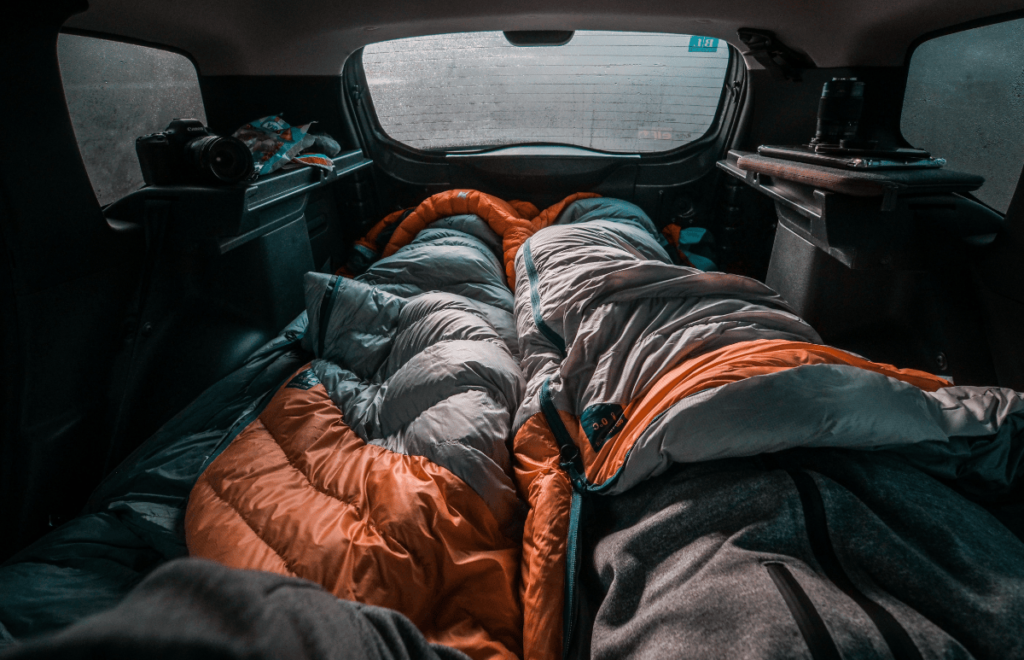 Final Tips
Pack efficiently to make the most of your space in the car.
Check the weather forecast before your trip and pack accordingly.
Research the camping site and its regulations before your trip.
Practice Leave No Trace principles and leave your campsite as you found it.
By following these tips and packing the essentials, you will be ready for your first car camping adventure.
Final Thoughts
Packing for your first car camping adventure can be overwhelming, but by following our guide, you will be prepared for a successful and enjoyable trip. Remember to pack the essentials, consider the weather and terrain, and practice Leave No Trace principles. Happy camping!
FAQs
Do I need a camping stove for car camping?
If you want a hot meal, it is a good idea to have a camping stove. Although you may be able to do just fine with cold meals or cooking over a fire, regulations permitting.
Can I bring my pet on a car camping trip?
It depends on the camping site's regulations, but many campsites allow pets.
Do I need a permit for car camping?
It depends on the camping site and its regulations. Research the site before your trip to determine if a permit is necessary
Can I use my phone as a flashlight while camping?
You can use your phone as a flashlight, but it is recommended to bring a headlamp or flashlight for longer battery life and durability.
Is it necessary to pack a first aid kit for car camping?
As someone who has first aid kits in all of my family's vehicles as well as multiple in our house, yes, a first aid kit is necessary for emergencies and minor injuries during your camping trip.
Do I need to bring my own firewood for camping?
It depends on the camping site's regulations. Some campsites provide firewood for purchase, while others require you to bring your own. Check the regulations before your trip.

However, you should never transport firewood from one area to another. Make sure to source firewood within the area where you are camping to prevent the spread of diseases or pests.
Can I bring alcohol on a car camping trip?
It depends on the camping site's regulations. Some campsites allow alcohol, while others prohibit it. Check the regulations before your trip.
Do I need to pack a camping shower for car camping?
It depends on your personal preference and the camping site's facilities. Some campsites have shower facilities, while others do not. Consider bringing a portable camping shower if you prefer to shower at your campsite.
Can I camp anywhere in a national forest?
No, not all areas of national forests are open for camping. Check the national forest's regulations and designated camping areas before your trip.
How can I keep my food safe while camping?
Pack food in airtight containers or sealable bags to keep it fresh and prevent animals from getting into it. Store food in a cooler with ice or ice packs to keep it at a safe temperature. Dispose of food waste properly to prevent attracting animals to your campsite.